Label:
STONED 5
Country:
Sweden
Released:
1977
Recorded:
Broendby Hall, Copenhagen Denmark May 12th. 1977.
Sound:
Very good mono audience recording.
Cover:
Nice full color fouled out cover and labels.
Comments:
I bought my copy from H. Lilliegren, one of the 'Stoned' guy's. I had also a good correspondence with the producer Bolle Gregmar. They told me the following about this album. It's made in 986 copies.
Recorded from row 15. The plan was from row 10, but inside the hall they found out that row 1-5 was A,B,C,D,E. So they end up in row 15. So the sound quality end up a bit lousier, than what they had expected. And one of the microphones also failed, so it's in mono.
For those who hoping for a complete re-release of this nice show, I'm afraid I must disappoint you all. The police sized everything, also the master tape, as evidence in the court. That's what they told me. The stuff has never been returned.
The running order of the songs, has been mixed to fit onto vinyl disc, and the encore song are missed.
Roots:
Original bootleg.


Front cover
SIDE 1:




Intro: 'A Day At The Races' theme (tape)




Tie Your Mother Down




Ogre Battle




White Queen




Somebody To Love




Death On Two Legs




SIDE 2:




Medley: Killer Queen




Good Old Fashioned Lover Boy




The Millionaire Waltz




You're My Best Friend




Bring Back That Leroy Brown




Brighton Rock




SIDE 3:




'39




You Take My Breath Away




Medley: White Man




The Prophet's Song




Bohemian Rhapsody




Stone Cold Crazy




SIDE 4:




Sweet Lady




Keep Yourself Alive




In The Lap Of The Gods.....revisited




Now I'm Here




Liar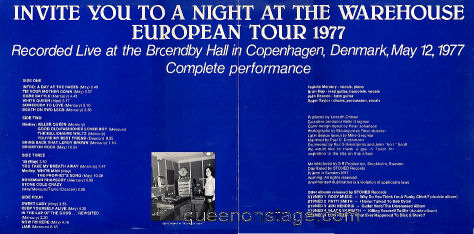 Inside fold-out cover


Back to bootleg vinyl


Back cover

------------------------------------------